Sales Support,
Phone: (86)0596-2161506
,
Email: DF@e-sun.cn
┇ Please contact us for details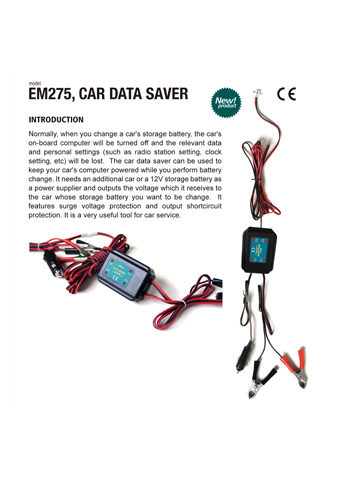 Model:
EM275
AUTOMOTIVE ELECTRICAL TESTER Features
INTRODUCTION
Normally, when you change a car's storage battery, the car's on-board computer will be turned off and the relevant data and personal settings (such as radio station setting, clock setting, etc) will be lost. The car data saver can be used to keep your car's computer power while you perform battery change. It needs an additional car or a 12V storage battery as a power supplier and outputs the voltage which it receives to the car whose storage battery you want to change.
Specifications
Accessories
Sales Support,
Phone: (86)0596-2161506
,
Email: DF@e-sun.cn
┇ Please contact us for details
CE Marking
CE marking, CE certification, CE approval, European directive and standards