Sales Support,
Phone: (86)0596-2161506
,
Email: DF@e-sun.cn
┇ Please contact us for details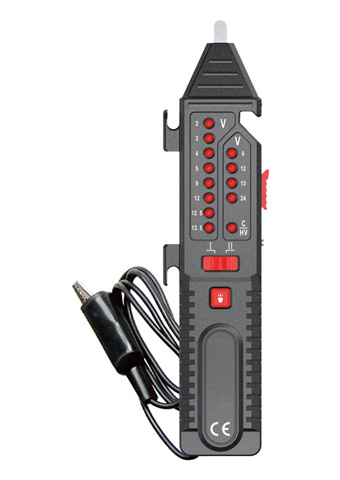 Model:
GK508
AUTOMOTIVE VOLTAGE/CONTINUITY TESTER Features
INTRODUCTION
The tester can be used to measure continuity, voltage of vehicle battery, DC voltage at a point of circuit, and check whether the ignition is delivering high voltage to the spark plugs. In addition, it incorporates a light to provide illumination for placing the test tip properly. It is very useful and can be used in vehicle's fault diagnosis and service.
Specifications
DC Voltage Range: 1/2/3/4/5/6/9/12/12.5/13.5/23/24V
Accessories
Sales Support,
Phone: (86)0596-2161506
,
Email: DF@e-sun.cn
┇ Please contact us for details
CE Marking
CE marking, CE certification, CE approval, European directive and standards