Sales Support,
Phone: (86)0596-2161506
,
Email: DF@e-sun.cn
┇ Please contact us for details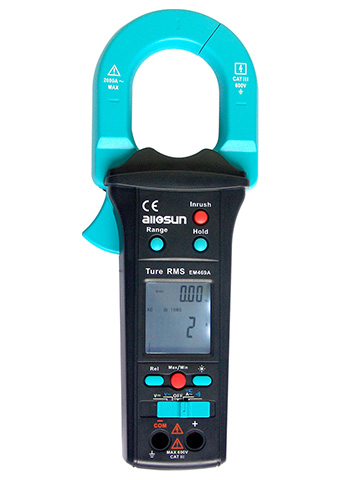 Model:
EM469A
TRUE RMS CLAMP METER Features
EM469A is true RMS digital clamp meters with dual display. It can be used to measure DC voltage, true RMS AC voltage, true RMS AC current, and continuity. It is easy to operate and are ideal measurement tool.




Dual display. Frequency and max. or min.value can be shown simultaneously


The digital display sampling rate is 2.8 times/sec, the analog bar graph updates at 28 times/sec


6600 counts LCD didplay


Measures true-rms AC voltage and true-rms AC current


The max. measurable current for the clamp is 2000A


Overload alarm feature for each range


Surge current measurement function is provided


Specifications
DCV: 660.0mV/6.600V/66.00V/610.0V
ACV: 6.600V/66.00V/610.0V
ACA(Clamp): 2500A
Inrush Current: 2000A
Continuity
Accessories
Sales Support,
Phone: (86)0596-2161506
,
Email: DF@e-sun.cn
┇ Please contact us for details
CE Marking
CE marking, CE certification, CE approval, European directive and standards