Sales Support,
Phone: (86)0596-2161506
,
Email: DF@e-sun.cn
┇ Please contact us for details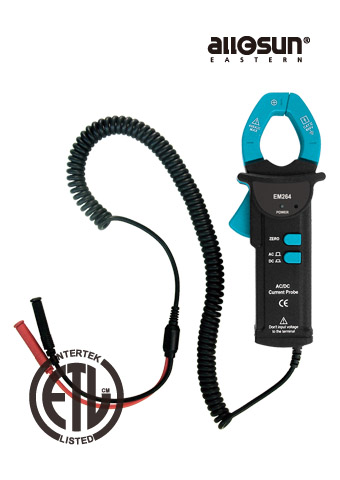 Model:
EM264
ETL mark, CATIII, EM264/EM263, AC/DC CURRENT CLAMP Features
- US ETL LISTED Marking -



US ETL LISTED marking, ETL certification, ETL approval, US directive and standards

The AC/DC Current Probe is based on Hall Effect technology and is designed to be used in conjunction with multimeter for ac and dc current measurements. The accessory together with all digital multimeter. EM263: Measure ACA 600A Max., EM264: Measure ACA/DCA 400A Max.
Specifications
Max. Measurable Current: 400A
Max. Overload Capability:
600A DC/AC rms
Max. Working Voltage:
600V AC rms, CATIII
Output Sensitivity:
40A range: 10mV/A
400A range: 1mV/A
Output Voltage: DC 0~±400mV

Max. Jaw Opening: 33mm
Max. Conductor Size: ?28mm
Power Supply: 9V(6F22) battery ×1pc
Dimensions: 186×73×40 mm
Weight: Approx. 300g(Without battery)
Accessories
Sales Support,
Phone: (86)0596-2161506
,
Email: DF@e-sun.cn
┇ Please contact us for details
CE Marking
CE marking, CE certification, CE approval, European directive and standards