Sales Support,
Phone: (86)0596-2161506
,
Email: DF@e-sun.cn
┇ Please contact us for details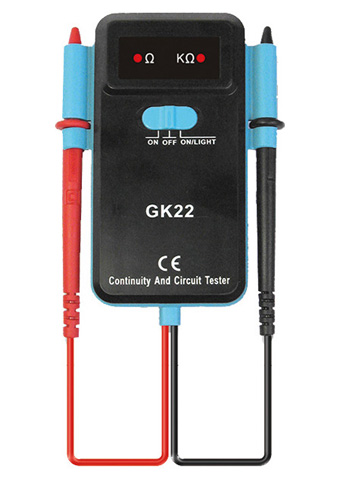 Model:
GK22
CONTINUITY AND CIRCUIT TESTER Features
GK22 is a continuity and circuit tester with visual and acoustic indication. It is designed for continuity test of electrical wiring, networks, systems. It can also be used to determine the polarity of semiconductor components such as diodes, transistors, and etc.
Specifications
·Reliable detection of faulty wiring, contacting errors
and cable interruptions
·High & low-impedance continuity tests
·Buzzer+LED indicator

Resistance Test Range: 0~90kΩ
Overload Protection: Max. 400V DC/AC
Power: 1.5V(AAA) battery ×3pcs
Dimensions: 118×79×29 mm
Weight: 99g (Without battery)
Accessories
Sales Support,
Phone: (86)0596-2161506
,
Email: DF@e-sun.cn
┇ Please contact us for details
CE Marking
CE marking, CE certification, CE approval, European directive and standards