Sales Support,
Phone: (86)0596-2161506
,
Email: DF@e-sun.cn
┇ Please contact us for details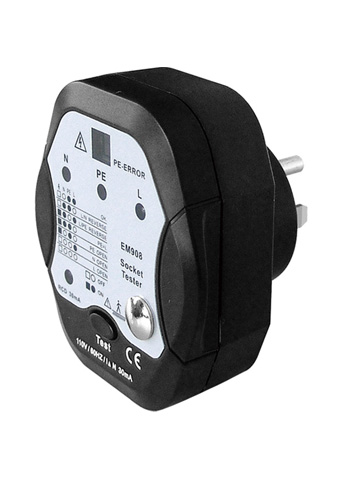 Model:
EM908
SOCKET TESTER Features
This Socket Tester can be used to determine whether socket wiring is correct or incorrect. It is equipped with an additional RCD tester for testing the operation of RCD whose rating is not more than 30mA. In conjunction with the coding table provided, the ??ve combined indicators indicate the true status of the wiring condition. A clear indication of a PE-error will be shown on the LCD if dangerous contact voltage is present at PE (ground).
Specifications
·Provides a true ground error indication through the LCD
·Quick recognition of dangerous voltage being present at
the protective earth
·Use of three neon indicators provides rapid detection of
correct /incorrect wiring
·Provides fast and effective RCD test function

EM908, SPECIFICATION
Nominal voltage: 220V ±10% (for EM908 only)
Frequency range: 50 ~ 60Hz
Mesurement category: CAT III, 300V
RCD-test time: 60 ~ 300ms
Contact voltage threshold:
(< 35V AC against ground depending on coupling to earth)
RCD test current: 30mA ±15%

Dimensions: 77×67×66 mm
Weight: Approx. 70g
Accessories
Sales Support,
Phone: (86)0596-2161506
,
Email: DF@e-sun.cn
┇ Please contact us for details
CE Marking
CE marking, CE certification, CE approval, European directive and standards