Sales Support,
Phone: (86)0596-2161506
,
Email: DF@e-sun.cn
┇ Please contact us for details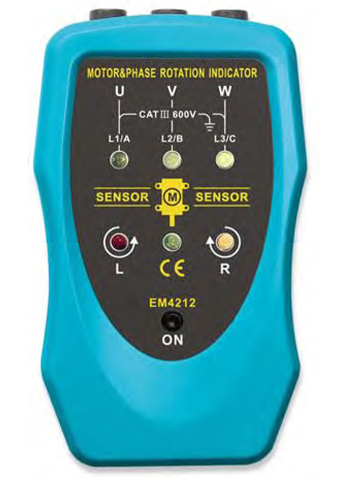 Model:
EM4212
MOTOR & PHASE ROTATION INDICATOR Features
The EM4212 Motor and Phase Rotation Indicator is a handheld, battery-operated, multi-functional instrument designed to detect the rotary ??eld of three-phase systems and determine motor-rotation direction, which is a must for any plant maintenance staff. It quickly identi??es the proper sequencing for three phase power. This is also an ideal tool for measuring proper rotation of motors, conveyors, pumps and other electrical devices interconnected on the power line system before installation.
Specifications
·Determine the Motor Connection
Nominal Voltage Rotary Direction: 1~400 VAC
Frequency Range: 2~400 Hz
Test current: < 3.5 mA
Non-Contact Rotary Field Indication
Frequency Range: 2- 400 Hz
·Determine Rotary Field Direction
Nominal Voltage Rotary Direction: 1~400 VAC
Nominal Voltage Phase Indication: 120~400 VAC
Frequency Range: 2~400 Hz
Test current: < 3.5 mA
·Magnetic Field Detection
·Power supply: 9V(6F22) battery x1pc
Accessories
Sales Support,
Phone: (86)0596-2161506
,
Email: DF@e-sun.cn
┇ Please contact us for details
CE Marking
CE marking, CE certification, CE approval, European directive and standards