Sales Support,
Phone: (86)0596-2161506
,
Email: DF@e-sun.cn
┇ Please contact us for details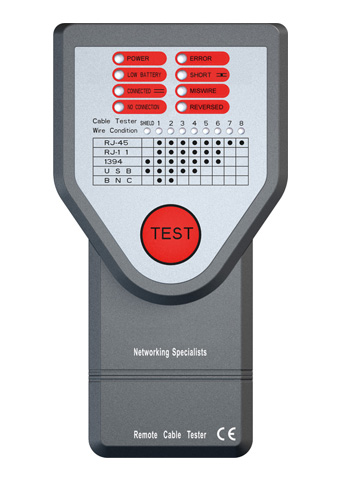 Model:
EM423
NETWORK CABLE TESTER Features
The network cable tester can be used to verify the integrity of RJ-45, RJ-11, IEEE 1394, USB and BNC cables. It consists of a main unit and a remote unit. Measurement Range: 0.1~305m (cable length). Low battery indication.
Specifications
·Test UTP(Unshielded Twisted Pair)and STP(Shielded Twisted
Pair) cable
·Easily read correct pin con??guration of RJ-45,RJ-11,IEEE
1394,USB and BNC cable
·Test cables installed from a distance either on wall or
patch panel
·Test for open circuit, short, miswiring, reversal, and etc
·DEBUG mode quickly detects fault(s) in detail

Power supply: 9V(6F22) battery ×1pc
Dimensions: 220×99×31 mm
Weight: Approx. 220g
Accessories
Sales Support,
Phone: (86)0596-2161506
,
Email: DF@e-sun.cn
┇ Please contact us for details
CE Marking
CE marking, CE certification, CE approval, European directive and standards