Sales Support,
Phone: (86)0596-2161506
,
Email: DF@e-sun.cn
┇ Please contact us for details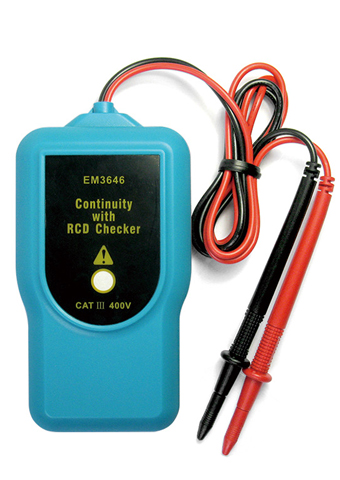 Model:
EM3646
CONTINUITY WITH RCD CHECKER Features
This instrument is a multifunctional tester with
audible and visible indication. it can be used to test
DC voltage, DC voltage, resistance, continuity, and Earth
Leakage Circuit Breaker (ELCB). in addition, polarity check for ac voltage is aLSO provided.
Specifications
·Continuity Check: 0 ~ 10kΩ (±5Ω)
·AC/DC Voltage Check: 400V max.
·DC Polarity Check: 1.5 ~ 400VDC max.
·RCD Trip Current: about 35mA/230VAC
·Discharge Time: < 1.5 sec (approx.)
·Power Supply: 9V battery, 6F22 or equivalent
Accessories
Sales Support,
Phone: (86)0596-2161506
,
Email: DF@e-sun.cn
┇ Please contact us for details
CE Marking
CE marking, CE certification, CE approval, European directive and standards