Sales Support,
Phone: (86)0596-2161506
,
Email: DF@e-sun.cn
┇ Please contact us for details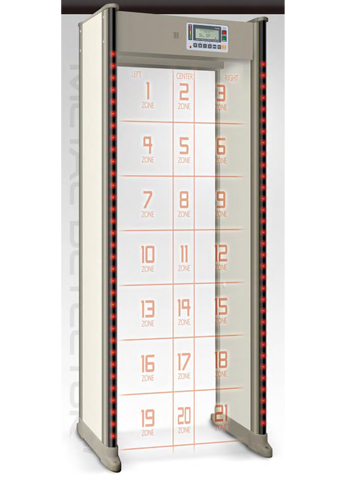 Model:
TS1252
WALK-THROUGH TS1252 METAL DETECTOR Features
This metal detector should be installed on a flat level platform (or ground) of nonmetallic material and its two planks should parallel with each other. Its power supply must be well grounded. There must be no moving metallic object near the metal detector. Do not use the metal detector near an interference source (such as wire cutting machine, electric welder, voltage regulating device, and etc).


APPLICATIONS
This metal detector can be used in airport, port, bank, hospital, jail, factory, museum, restaurant, dance hall, etc.
Specifications
Power Supply: AC 100 - 240V, at 50 - 60Hz
Power Consumption: < 20W
Zone Number: 21 zones - 7 zones from top to bottom and 3 zones from left to right
Alarm: sound and LED light
Sensitivity: 0 - 255 sensitivity degree, 4 independent adjustable areas
Alarm Volume: 0 - 16 degree, adjustable
Alarm Tone: 0 - 15 degree, adjustable
Infrared Counting: can be enabled or disabled
Password Protection
Parameter Setting: via touch keys
Size: 222x88x73cm
Weight: about 73kg
Accessories
Sales Support,
Phone: (86)0596-2161506
,
Email: DF@e-sun.cn
┇ Please contact us for details
CE Marking
CE marking, CE certification, CE approval, European directive and standards