Sales Support,
Phone: (86)0596-2161506
,
Email: DF@e-sun.cn
┇ Please contact us for details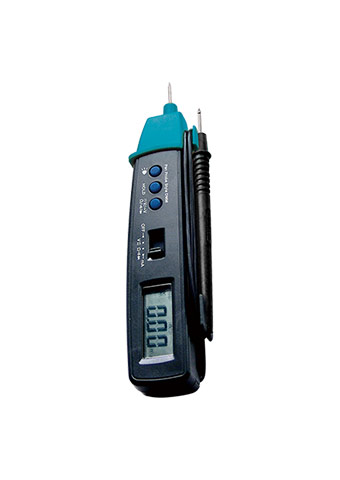 Model:
EM3213
PEN PROBE STYLE DMM Features
[2007 catalog B] [Page 19]

This meter is a compact 3 1/2-digit autorange digital multimeter for measuring DC and AC voltage, DC and AC current, resistance, diode, continuity. Tenable the spotlight function.

·3 1/2 digits LCD, Max. reading 1999
·Auto range, data-hold function
·Polarity: auto polarity indication
·Overrange indication: ".OL" on display
·Auto zeroing function, auto power off
·Sampling rate: approximate 3 times per sec.

Flashlight
It is used for illumination

CAT II
The instrument complies with CAT II 600.

Specifications
Voltage DC:200m/2/20/200/600V
Voltage AC:2/20/200/600V
Current DC:20-200mA
Current AC:20-200mA
Resistance:200/2k/20k/200k/2M/20MΩ
Diode Check:1.5V/1mA

Power:3V(CR2032) × 1
Dimensions(W×L×T):40×190×25 mm
Weight:90g (with battery)

Accessories
Test Lead;3V(CR2032)*1 Battery;Users Manual
User Manual
Sales Support,
Phone: (86)0596-2161506
,
Email: DF@e-sun.cn
┇ Please contact us for details
CE Marking
CE marking, CE certification, CE approval, European directive and standards