Sales Support,
Phone: (86)0596-2161506
,
Email: DF@e-sun.cn
┇ Please contact us for details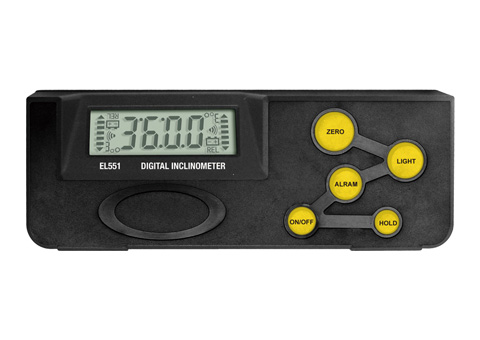 Model:
EL551
DIGITAL INCLINOMETER Features
This instrument is a new-type digital inclinometer, which can be used to substitute for traditional spirit level. It can be used in road engineerings, machine measurements, industrial platforms, antenna placements. It can be used as an independent unit or be integrated in another tool, instrument, device, or measuring tool.
Specifications
●The instrument measures angle accurately and is easy to operate
●Error indicator "Err" appears when the front surface of the instrument is horizonta
●The instrument can be calibrated by user instrument's state relative to level or plumb
●Two bar graphs help indicate the
●The display sh The display shows angle directly
●Low battery indication
●Alarm angle setting
Accessories
Sales Support,
Phone: (86)0596-2161506
,
Email: DF@e-sun.cn
┇ Please contact us for details
CE Marking
CE marking, CE certification, CE approval, European directive and standards