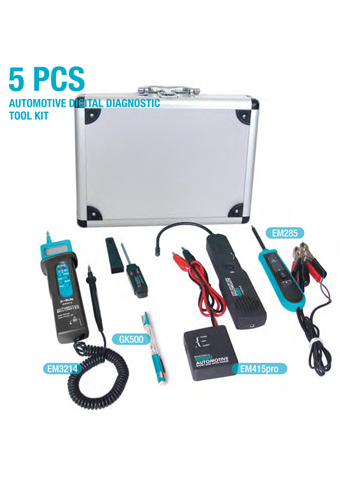 Model: ETK02B
---
AUTOMOTIVE TESTER KIT
---
Features
5 PCS AUTOMOTIVE TESTER KIT
Automotive Digital Diagnostic Tool Kit ETK02B is a special Tool Kit for automotive maintenance engineer. It can promptly detect the malfunction of automotive.
Specifications
1. EM3214, AUTOMOTIVE PEN PROBE STYLE DMM
EM3214 is a autorange digital multimeter for measuring DCV, ACV, OHM, CAP, FREQ. Duty Cycle, Diode Check.

2. ETP109B, DIGITAL TEMPERATURE
ETP109B is a high precision electronic probe thermometer, capable of measuring the value of Celsius degree/Fahrenheit degree and holding the test datum.

3. GK500, SPARK INDICATOR
With the engine running, place the grooved end of the tool over the spark plug wire. The bulb will ??ash to indicate spark.

4. EM415PRO, AUTOMOTIVE SHORT / OPEN FINDER
It is designed to identify and trace wires or cables without damaging the insulation. You can also use it in checking for short circuit and locating open circuit and so on.

5. EM285, AUTOMOTIVE MULTITESTER
Applications: Test for continuity, Test for polarity of a voltage, Check lamp, Check electric motor, Power supply function may be selected, Follow and locate short circuits, Test for bad ground contacts.
Accessories