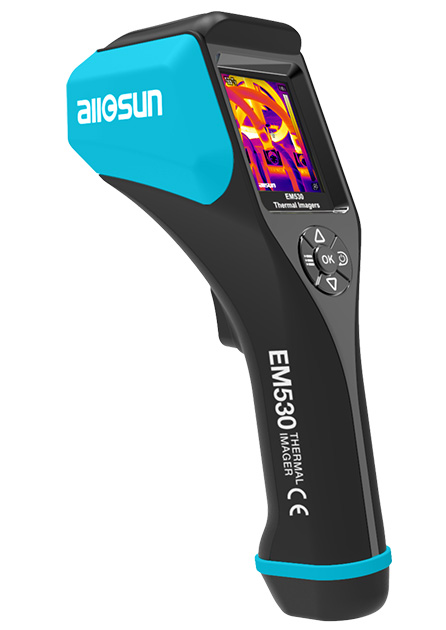 Model: EM530
---
THERMAL IMAGER
---
Features
This instrument is a handheld thermal imager, which is powered by four 1.5V AA ( or equivalent ) batteries.

This instrument image display resolution is 240 x 240 pixels. The temperature of the center point of the displayed measured surface and the highest and lowest temperature of the displayed measured surface can be displayed. You can select any of the three image modes: infrared image, visible image, fusion image.

Captured images can be saved in the TF card, and you can view them through menu and can edit the image files on a computer via USB port.
Specifications
Display: 2.4 inches, 320 X 240 pixels
Infrared Image Resolution: 32 X 32 pixels
Visible Image Resolution: 32 X 105 pixels
Temperature Measuring Range: -20°C to 400°C
Emissivity: 0.01 - 1.00, adjustable
Distance : Spot: 2 : 1
Response Time: 200ms
Color Palette: Grey Scale, Hot Iron, Rainbow
Auto Blend Mode: 0% ( full infrared iamge ), 25%, 50%, 75%, 100% ( full visible iamge )
Focus Adjustment: Automatic
Memory Card: TF card
Image File Format: BMP
Accessories