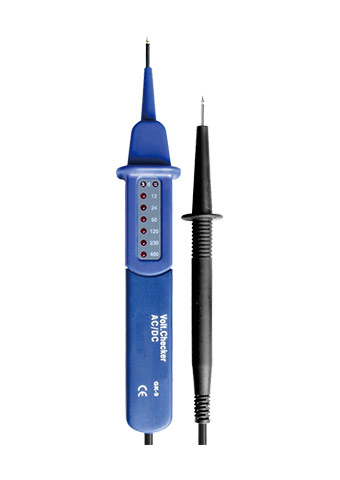 Model: GK9
---
VOLTAGE TESTER
---
Features
1. This tester is designed and tested in accordance with EN publication 61010-1, pollution degree ll , measurement category II, 600V.
2. This meter complies with EN50081-1 & EN50082-1.
3. This tester is designed to be indoor use at temperature 5℃ to 40℃ and altitude up to 2000m.
4. This tester is designed for "TOUCH" testing only.
Do not keep continuous contact with the unit under test for over 10 secs, especially to high
voltage.
5. Test on known live circuits to familiar yourself with the response from a live cable.
6. Do not use the tester if the tester or test leads look damaged, or if you suspect that the tester is not operating properly.
7. When, using the probes, keep your fingers behind the finger guard on the probes.
8. Always ensure probes are dry and do not work with wet hands.
Specifications
Voltage Range:
6V/12V/24V/50V/120V/230V/400V

Indication:
LED lights up to the Voltage reading
Frequency range: 0~60Hz
Accessories
User Manual