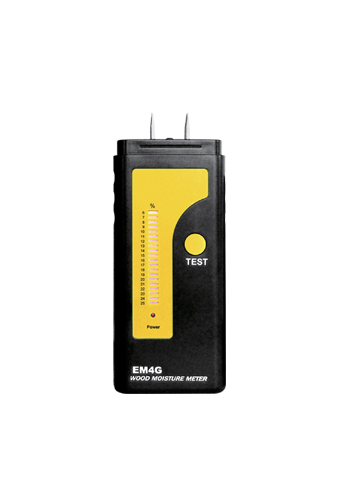 Model: EM4G
---
Wood Moisture Meter
---
Features
[2007 catalog B] [Page 74]

This meter is especially used in measuing moisture content for veneers and panels with less than 20mm thickness.

There is a power switch in the cover, When you don't use the meter, join the cover to the meter to make the meter's power be disconnected. When the button is wrongly pressed,this power switch in the cover can also prevent the battery from being exhausted. The meter is very easy to be used.

CE

4 pins
4 pin steel probe used for
assessing the moisture conditions in buildings.

Specifications
Range:6 - 25%
Accuracy:±2%
Display:LED
Resolution:1%

Power:9V battery (6F22)
Dimensions(W×L×T):62×158×28 mm
Weight:160g (with battery)

Accessories
Battery; Users Manual; Protective Cover
User Manual